Merged in a post:
Открытие вкладок по расписанию.
Пользуюсь вашим приложением уже 4-5 лет. Спасибо вам за него, но все эти годы я много раз писал с предложением сделать такую функцию, чтобы сохраненная страничка сама загрузилась в браузере через определенное время, например чтобы загружалась каждый вторник, или каждое 10 число месяца и т.д.
Это очень удобно, т.к. есть много вкладок, которые не нужны каждый день, например внести показания счетчиков в управляющую компанию, проверить ответ на форуме и т.д.
Обычно приходится держать в голове все эти дела, а так страничка открывается в запланированную дату и время. Очень удобно, нет кучи открытых вкладок и ничего не забываешь.
Я долго искал подобное приложение. В итоге нашел, называется Tab Snooze. В ней много настроек, но нет экспорта сохраненных вкладок и личного кабинета.
Да и хотелось бы, чтобы всё было в одном приложении.
Пожалуйста, рассмотрите возможность сделать у себя такую же функцию. Многие будут вам благодарны.
Прикрепил скрин, как это реализовано в указанном приложении.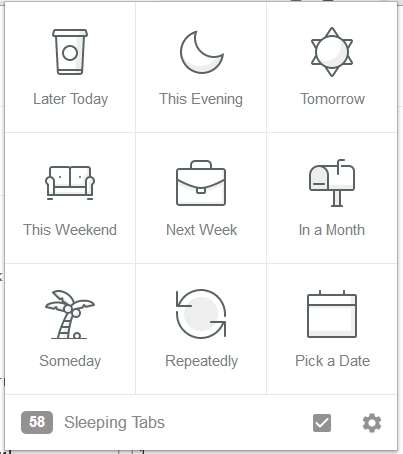 Merged in a post:
Automating links to open and close on set time
The feature would add a timer to saved bookmarks to open (and close) specified URLs at a time set.
This feature would enhance
Raindrop.io
's capacity from storing bookmarks to working with bookmarks. Our beloved app would turn into a bookmark reader.
Now and then one comes across an article worth reading and one really want to discover the site further. Best resolutions made, URL saved in
Raindrop.io
but the site gets forgotten until stumbled upon.
The Timed Reader feature would open e.g. every first Saturday of the month the saved [home page] URL presenting the user with with a tab or browser full of tabs one scheduled to revisit.
The Timed Reader function would be a great aid to keep promises to one self and help the user focus on sites that are most of its interest.
This feature is not new.
CronTabs (Chrome)
offers it but lacks synchronization between devices. OpenSource software.
TabSnooze
has it as part of its paying service but at $2.95 a month ...
Please vote this maybe not too complicated to implement feature request up. It would serve many users well.